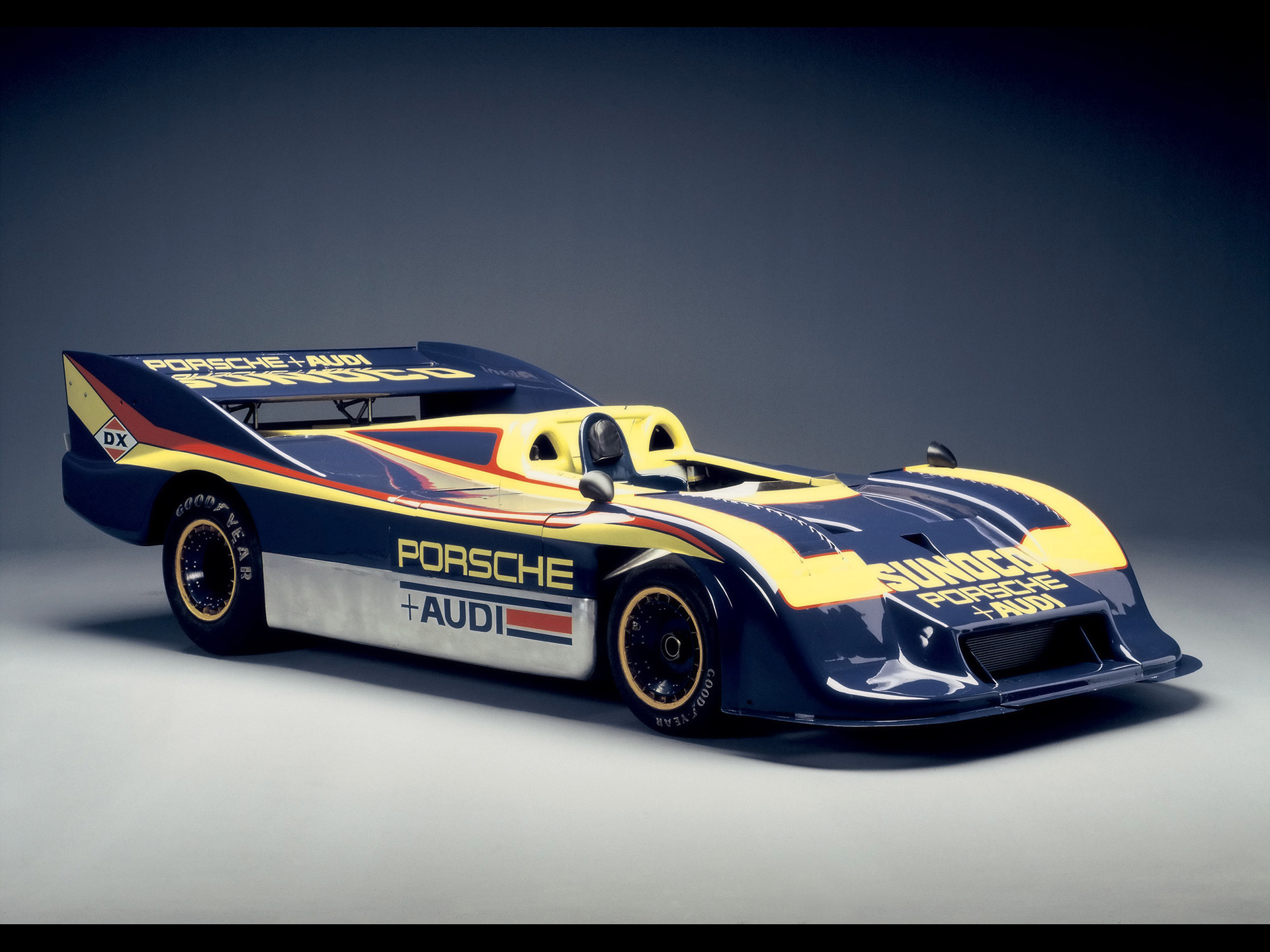 'Scary' is not an adjective uttered often by seasoned racing drivers in the company of their peers, but it tripped easily from the lips of the small band of heroes who drove Porsche's first 12-cylinder Type 917 sports cars.
Few racing cars since the hairy-chested Mercedes-Benz and Auto Union Grand Prix monsters of the 1930s have struck so much fear into so many hearts, with the trepidation shared evenly amongst 917 pilots and their rivals.
Yet just over 12 months after its first appearance at Spa in 1969, Porsche won the first of its 16 Le Mans 24-Hour races with the 917 and four years on in 1973, the 917's ultimate incarnation, the twin-turbo 917/30, utterly dominated Can-Am racing in North America.
With nearly 1200kW at the driver's disposal, for qualifying, around 820kW on tap for races and a top speed on the flight-mode side of 400km/h, the 917/30 should have been the scariest Porsche of them all.
The development road to the 917/30 had been rocky.
Porsche's initial motivation to build a 12-cylinder 917 sports car at a time when the largest Porsche production engine had only half as many cylinders and peaked at 2.0 litres, was motivated by two factors.
First were the new FIA regulations that allowed 5.0-litre engines to compete with 3.0-litre cars in the Production Sports Car category. This opened the door to a long-held Porsche dream of winning the Le Mans 24-Hour race outright, a feat that had hitherto been beyond the 3.0-litre flat-eight cylinder 908 coupes in the face of their fierce Ferrari and Ford GT40 opposition.
There was also another, less public reason. The German Government was looking for a new large-displacement air-cooled tank powerplant and the income from this project allowed legendary Porsche designer Hans Metzger to add four additional cylinders to the 908 engine, resulting in a 4494cc flat-12 engine codenamed the 912.
It took Porsche a full season to develop the 917's chassis to handle the new engine's power, but it was amply rewarded when Hans Hermann and Richard Attwood won 1970's Le Mans in their Porsche-Salzburg-entered 917.
However the 917's success also led to its demise, and after Porsche's back-to-back Le Mans 24-Hours win in 1971, the FIA reverted to the 3.0-litre engine limit, effectively painting the 917 out of the picture.
Fortuitously, dynamic young American racing team entrant Roger Penske was at Le Mans that year with his team's Ferrari 512 sports car and afterwards was asked to meet with the Piech family that then controlled Porsche.
Porsche had already been involved in Can-Am racing for several years in a small way with a cut-down open version of the naturally-aspirated 917 endurance car, but with the door being shut to its European racing aspirations, Ferdinand Piech wanted to get serious in North America and break the McLaren stranglehold on the Can-Am.
A deal was struck after several months of negotiations, during which time a small team of Porsche technicians worked at turbocharging the 917's engine and fitting it into the existing 917 chassis.
Penske's lead driver and 1971 Indianapolis winner Mark Donohue wasn't too impressed with their work when he arrived in the European autumn of 1971 and drove the turbocharged 917/10 on Porsche's newly built Weissach test track.
It was meant to be a photo opportunity to celebrate the new Porsche-Penske Can-Am collaboration, but Donohue was hung over from the night before and there had been a big trackside lunch at Weissach with lots of sausages and beer.
"I didn't want to go too fast, but even at that speed the car was terrible," he wrote in The Unfair Advantage. "It was hunting back and forth on the straightaway… I had to jam my legs against the steering wheel to keep it in a straight line at 150mph."
He was ready to tell the German engineers that they would have to start all over again when they proudly showed him his times – he was just 1.5secs slower than the track record set in the same car after more than 1500km of testing by experienced Porsche test driver, Willi Kauhsen. He bit his tongue, realising that the car had potential.
What started out as a three-day visit for Donohue turned into a concentrated three weeks spent with the Porsche engineers, analysing every facet of the 917/10, with the American immediately earning the respect of his German colleagues and leaving his name on the top of the Weissach lap record board on his departure.
Before he left though, they rolled out a surprise – a dirty-looking 917 coupe fitted with a monster naturally-aspirated flat-16-cylinder engine that had been considered as an alternative should the turbocharging programme for the type 912 engine fail. Donohue was impressed by its straight-line speed and estimated that, if turbocharged, it could be good for more than 1500kW!
Team Penske received its first turbocharged 12-cylinder engines in early-1972 and immediately the 917/10 showed its potential, with Donohue qualifying comfortably on pole for the first Can-Am race of the season at Mosport. However in the race a stuck throttle valve cost him several laps in the pits and he ultimately finished second to Denny Hulme's McLaren.
But in practice for the next round at Daytona, disaster struck when the rear bodywork of Donohue's car came loose at around 250km/h, sending it into a series of cartwheels, before coming to rest with Donohue still strapped in his seat. Amazingly, his only serious injury was his left leg, which required surgery, but it removed him from the driving seat for most of the season.
In his absence, former Penske driver George Folmer took over at short notice and went on to give Porsche its first Can-Am title.
After the season, the Penske 917/10s were sold to private Can-Am teams, effectively becoming Porsche's first turbocharged customer racecar; as for 1973 the factory – and Penske – had something better in mind: the 917/30.
Based on the 1972 car, the new 917 was extensively revamped with a longer wheelbase, a wider track, revised suspension geometry and a better aerodynamic package. But the king hit was an enlarged 5.4-litre flat-12 engine, now pumping out a reliable 820kW in race trim, but with adjustable boost to take it up to nearly 1100kW in qualifying. And rather than two drivers, Roger Penske decided he would enter just one car for Donohue in a bid to win the 1973 title.
The task was made easier by the fact that in the face of the improved 917 and Penske's 1972 results, both McLaren and Lola dropped out of the series, leaving just one factory team, Shadow, to battle up to eight privately-entered 917/10s and Penske's lone 917/30 for outright honours.
Donohue again worked closely with Porsche to develop the new car, particularly its aerodynamics, testing at Paul Ricard circuit in the south of France. The result of their work saw the car's top speed rise from around 320km/h to nearly 400km/h.
Porsche built just three magnesium-chassis 917/30 racecars for the 1973 season. Chassis 001 was a development car based at Weissach on which new ideas and components were tried and tested during the season, while chassis 003 was Donohue's race car and 002 was the team's spare.
Although Donohue inflicted most of his 'damage' in chassis 003, 002 was called on for duty twice during the season and took Donohue to victory at Watkins Glen and to seventh in the Mosport (Canada) round. Donohue usually practised in both cars and said they were so similar that he could comfortably lap 2.0secs faster than anyone else in either car.
Porsche built a fourth 917/30 – chassis 004 – which was later purchased incomplete from the factory by then-Australian Porsche importer Alan Hamilton and was later built-up to full 917/30 specification. However it never raced and now, like chassis 003, resides in the US.
History shows that Penske utterly dominated the 1973 Can-Am, winning six of the eight races, with Donohue beating former teammate Folmer in the Rinzler Racing 917/10 to the title, 139 points to 62.
Feeling he had reached the zenith of his racing career, Donohue announced his retirement in 1974 to become manager of Penske Racing, but within two years he was back on the track with Penske in Formula One.
But there was one last hurrah for the 917/30. In August 1975 Donohue took chassis 003 to Talladega Speedway in Ohio where he set a closed-course speed record of 355.86km/h.
One week later, in the morning warm-up for the Austrian Grand Prix, the American suffered a cerebral hemorrhage after crashing and two days later died in hospital.
FAST FACTS
1973 Porsche 917/30 Spyder Can-Am
Body: two-seat sports car
Chassis: magnesium tubular spaceframe, fibreglass body
Weight: 800kg
Engine: 5374cc flat-12-cylinder, air-cooled, two turbochargers
Power: 820kW @ 7800rpm in race trim; up to 1178kW for qualifying
Transmission: four-speed gearbox, limited slip differential
Performance: 0-160km/h – 3.9secs; 0-200km/h – 5.3secs; 0-320km/h – 10.9secs. Top speed – 400km/h
Suspension: independent by coil springs
Brakes: internally-vented four-wheel discs